Author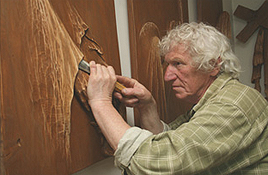 Born in Mierzanowice in Poland (Sandomierz Land) in 1941. He graduated from Fine Arts High School in Kielce (in 1962), and in 1968 he got a dyploma from Academy of Fine Arts in Warsaw (professor Marian Wnuk sculpture class). In 1972 he left Poland and emigrated abroad. First to Vienna in Austria and then, a year later, he left for the USA. Together with his wife Barbara who is also his manager, he seatled in the New York City. There, at the Union Square, they established the DAVID II SCULPTURE STUDIO, which, for the next 25 years became an important and cultural establishment. The studio - a true art laboratory, became a place where a new direction in arts, ERA - ART was created. This enterprise was closed in 1998 due to their return to Poland. Many of his sculptures were bought by contemporary art collectors. The whole, more than 50 year artistic out - put can be divided into two different cycles:
PROFANUM (made in the USA)
Large wooden sculpture, typical for ERA - ART style (eg. Energy Crises, America and the World, United Nations, etc.)
Medium size sculptures, also in ERA - ART style, wood and bronze (eg. Reading, Problem #1, Heads from the Wailing Wall, etc.)
Brooklynites (small wooden miniatures, more realistic)
Manhattanites (wooden and bronze miniatures more free in form)
Caricatures of famous American personalities (also wooden miniatures)
60 wooden masks
Wooden reliefs (eg Hat, Beauty, Keys, etc.)
SACRUM (made in Poland)
Sacral wooden reliefs (various religious themes)
Way Of The Cross (a series of 14 wooden reliefs)
Small sacral models for large sculptures
Large monuments cast in bronze (of John Paul II, also abp. Felinski etc.)
The artist is still working creatively , taking part in many artistic enterprises.
WE CORDIALLY INVITE YOU TO VISIT THE GALLERY OF ERA - ART SCULPTURES.